Memory. Its erratic ways. For what didn't happen within the next five minutes?
Every night, Inni Wintrop sees his life pass in front of his eyes. Called upon by sensations that he can't forget – the first time he felt fear, the first humiliation, first love affair, the first glass of whisky with its taste of smoke and hazelnut – there are visions appearing in front of his sight, and figures performing mysterious dances. For what else could you call them, the manoeuvres of giving a purpose to life – rituals –; the fortification of islands of meaning from the raging stream of time?
With brilliance and irony, Inni observes his fellow human beings as they create their own auxiliary structures. He finds the entire world reflected in the smallest details and, lastly, revolves around one theme: that of being and nothingness.
Cees Nooteboom
RITUALS
based on the novel of the same name
Translation by Hans Herrfurth
Dates
Resumption
30.10., 8 pm book tickets
31.10., 8 pm book tickets
01.11., 6 pm book tickets
13.11., 8 pm cancelled
14.11., 8 pm cancelled
15.11., 6 pm cancelled
Cast Moritz Buch, Axel Gottschick, Ives Pancera
Director Bettina Kaminski
Stage Design Gerd Friedrich
Costume Design Ives Pancera
Dramaturgy Victor Schlothauer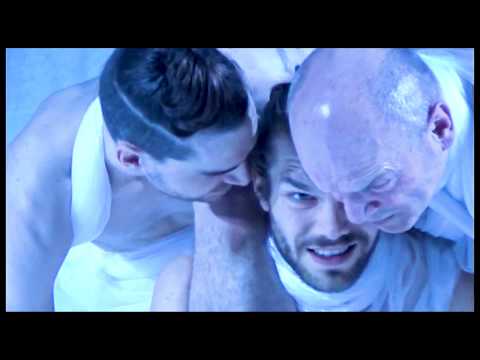 Premiere 14. März 2020
Scroll Up